Frequently Asked Questions

DNR
Q
When are ATV's/ OHV's/ ORM's and Snowmobile registrations renewed?
A
They are renewed between September 1 and December 31 for $17.75 every year.
Q
When is my boat registration renewed?
A
Boat registrations are renewed every three years from January 1 through April 30. The next renewal will be due in 2025.
Q
What is a rural user permit and how much does it cost?
A
The permit costs $25 per year (for Woodbury County only) in addition to the regular off-road registration.
This permit allows ATV or OHV (side by side) to drive on rural roads (not four-lane highways). The vehicle cannot exceed 35 mph when traveling on these roads. Vehicle must have headlights, a horn, turn signals, and break lights.
Q
How much does a lifetime hunting or fishing license cost?
A
The cost for each is $61.50. The customer must be 65 or older.
Q
I am a disabled veteran, is there a special hunting or fishing license for me?
A
Yes, please contact our office at 712-279-6492 for details.
Q
Is there a disabled/low income hunting or fishing license??
A
Please contact our office at 712-279-6492 for applications.
Motor Vehicles
Q
How can we pay vehicle registrations?
A
Payment methods for vehicle registrations:
Q
Do I have to have an appointment?
A
No appointment is required unless you need four (4) or more title transfers.
Q
If paying registration online, where can I find my PIN?
A
Your PIN is specific to you and should not change so you can use it from year to year. The PIN is located on your renewal notice in the top right-hand corner. If you cannot find it, you can contact our office at 712-279-6500. If your renewal notice does not contain a PIN, you are not eligible to renew online. Please refer to the back of the renewal notice for more information.
Q
Can I put a vehicle title into someone else's name?
A
No. The new owner needs to be present at the time of transfer or have the appropriate forms completed beforehand. If you are transferring a title on behalf of another person, you may download Form 411007 from the Iowa DOT website. They must complete and sign this form.
Q
How do I get a replacement title?
A
Download Form 411033 from the Iowa DOT website.
There is a 5-day waiting period if the original title is lost. (If the original has been altered or spoiled in some way, please submit the original title to us with Form 411033 and we will process a replacement title in the same day.)
Anybody whose name is on the face of the title MUST sign the replacement application.
The replacement title must be ordered where the title was made (county specific). The fee is $25.00.
Q
How do I order personalized/vanity license plates?
Q
How do I get a salvage title vehicle inspected?
A
You must complete the inspection form on the DOT website and then contact the sheriff's office to schedule an inspection with them.
For more information on salvage titles, please visit the Iowa DOT website.
Q
Questions about abandoned vehicles?
Plate Replacement Cycle
Q
What is the Plate Replacement Cycle?
A
The Plate Replacement Cycle is a program that the Department of Transportation has implemented for license plates that are 10 years old or older and are still on a vehicle. The life span of a license plate is about 10 years. The goal is to replace those plates so there will never be a license plate on any vehicle over 10 years old.
Q
When did the replacement plate cycle start?
A
The replacement plate cycle started on April 1, 2012 for the May 2013 registration renewal month.
Q
When am I eligible to be reissued new plates?
A
| | |
| --- | --- |
| If your plates were issued in: | The plate will be replaced in: |
| 2011 | 2021 |
| 2012 | 2022 |
| 2013 | 2023 |
| 2014 | 2024 |
| 2015 | 2025 |
| 2016 | 2026 |
| 2017 | 2027 |
| 2018 | 2028 |
| 2019 | 2029 |
| 2020 | 2030 |
Q
What should I do with my old plate that I have on my vehicle?
A
You should recycle your old plate. You are not required to turn in the plates to the County Treasurer. The Vehicle system will record that new plates have been issued to a customer.
Q
Were there changes to the license plate design?
A
In 2018 the County Standard plate design was updated to the "City and Country Reboot," which features city and country images in the top blue border. In July 2011 the numbers and letters on the plate changed from blue to black color. In November 2011 the zero was changed to a circle slash zero to assist law enforcement.
Q
Were the postage and handling fee increased because of the plate replacement?
A
Due to the higher cost of mailing envelopes and packages from the postal service, the cost of mailing a set of plates has gone up slightly. The cost to mail a set of plates is $3.00. The cost of mailing a registration with a tag is $1.00.
Q
If my plate on my vehicle is still readable and looks okay do I have to get a new plate?
A
If your plate is 10 years old or older you have no choice, the vehicle system is programmed to automatically issue a replacement plate.
Q
If only one of my vehicles is due for a replacement plate this year, can I get new plates for my other vehicles so that all of my plates are in sequential order?
A
If you choose to replace plates outside of your plate replacement period, you will be charged a $5 replacement plate fee. You will also need to turn in your old plates and current registration. If you do not have the current registration to turn in, we will accept the plates alone.
Q
I just received my renewal notice in the mail, how do I determine if I am getting new plates?
A
The front of the renewal notice will have a 'Y' in the 'Plates' column field.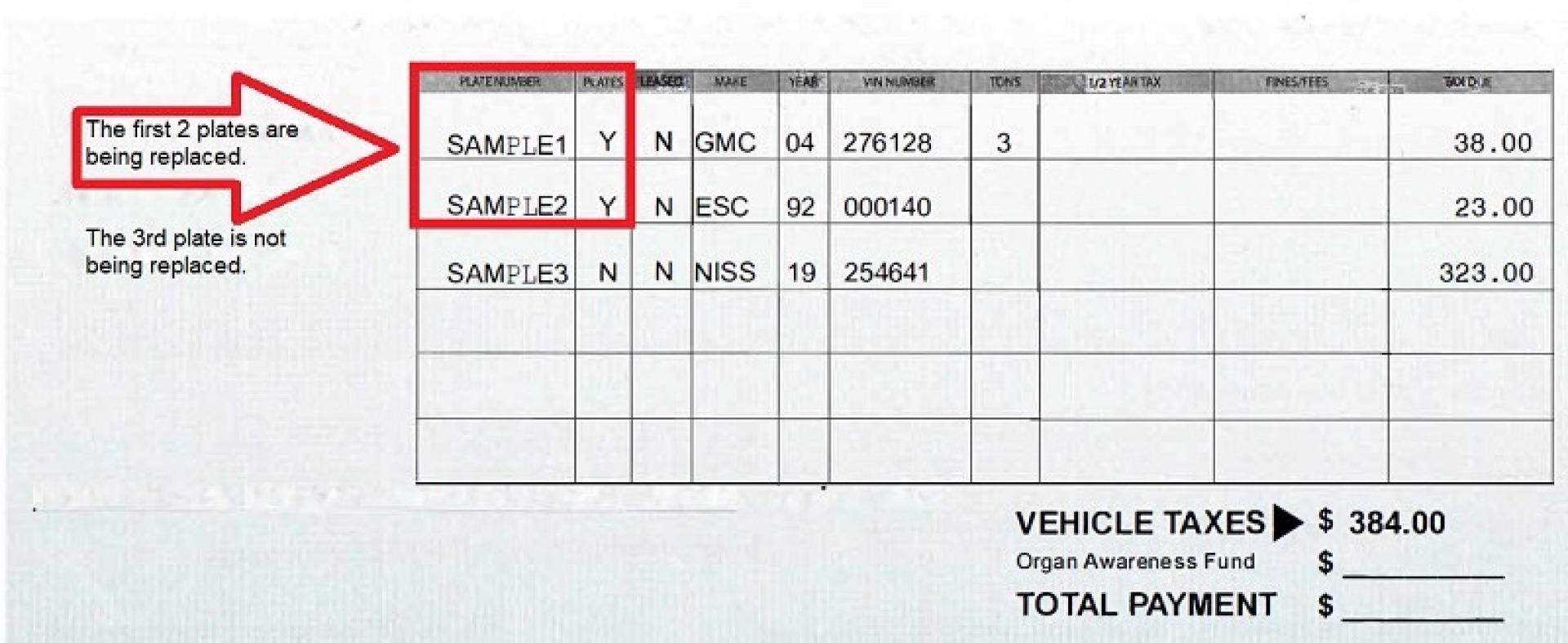 Property Tax
Q
When are property taxes due?
A
Because we run on a fiscal year and not a calendar year:
First half taxes are September 1st, delinquent October 1
Second half taxes are due March 1st, delinquent April 1
If a customer wants to pay the full year taxes at one time, they will typically pay the whole year in September.
A
You may pay by any of the following convenient ways:
Through the mail. Postmark must be by September 30 for the first half payment and March 31 for the second half payment to avoid penalty.
In our office from 8:00 a.m. to 4:30 p.m.
Online through the Iowa Treasurer's website. You must have the 5-digit receipt number located on your tax statement available.**
** If you do not have your tax statement, you may access a copy by scrolling down to the Tax History section of the Treasurers website.
Q
When do I receive my property tax billing/statement?
A
Taxes are billed every fall and statements typically go out in the mail in mid-late August.
Q
Where can I find my receipt number to pay taxes online?
A
Your receipt number is printed on your statement. You can also find it on the Iowa Treasurers website under the tax history section in the right column.
Q
Where do I find out what I paid for taxes last year?
Q
Where do I file for homestead credit?
A
Almost all credits are applied for through the Assessor's Office. To apply for a homestead credit, please contact the City Assessor for all properties located within the Sioux City limits. For all other properties contact the County Assessor.
The only credit handled by the Treasurer's Office is the Disabled/Senior Credit. Please visit the Property Tax Credits page for more information.
Q
What is the penalty if property taxes are paid late?
A
A 1.5% penalty is assessed per month after the due date.
Q
What and when is a tax sale?
A
The tax sale is the sale of any unpaid property taxes within the county as of the first part of June. The tax sale is held electronically on the third Monday in June.